He's fierce. He's in charge. He's to be feared – but wait…he lights up your world with a smile. Who says there's only one king of the jungle? Your little one will own Halloween night in one of these lion costumes babies will just love. There are a lot of animal costumes available, but none can beat out the look and comfort of the bodysuit designed to look like the toughest cat in the world.
Lion Halloween Costumes Babies will LOVE
Lil Characters Unisex Baby Lion Costume
InCharacter Costumes Baby's Lil' Lion Costume, Brown, Small (6-12 Months)
By getting this costume – the Lil Characters Unisex Baby Lion Costume – you get all of the eye catching details starting with the plush mane, meant to frame that cute little face. The mane is made up of soft, squeezable material sewn onto the hood in circular rows giving it the look of a symmetrical mane.
This tan bodysuit is zippered with the mom favorites – snap leg closures. The attached tail is topped off with a bright red bow (who says the king of the jungle has to be all fierce?). Cute little paw print booties and the hood add originality to this costume. Parents love the hood because it's so warm that it keeps baby's ears protected from a chill.
&
You can find a baby lion costume that roars, or you can find one that's as gentle as a lamb like you'll see with the Lil Characters Unisex Baby Lovable Lion Costume. This jumpsuit is zippered and the hood has a velcro and snap closure.
The surrounding mane on this one is worth just looking at it's so cute. It's realistic, yet soft and gentle. If the king of the jungle had a little brother, this would be what he would wear.
The Littlest Lion Costume
Is there anything cuter than a newborn in an adorable costume? Sweet Newborn Baby Handmade Crochet Animal Costume Sets includes the Lion Mane (as a warm hood) and little lion pants… complete with a tail. While it may be a bit cool to take this outfit trick or treating… These outfits that makes a great photo shoot.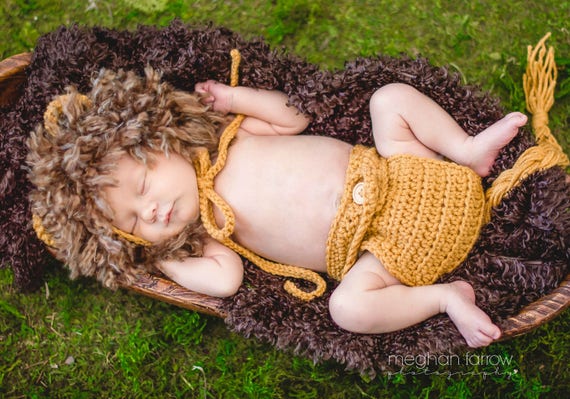 Baby Lion Costume

Newborn Baby Crochet Knitted Lion Photo Photography Props Handmade Unisex Baby Hat Diaper Outfit (Lion)

Fearless Lion Baby Costume
Fearless Lil' Lion Costume – Infant
If you're looking for something a little more colorful, you'll want to take a peek over the rainbow – the lion mane that is. Attached to the hood of the Fearless Lion Baby Costume is a delightful multi-colored mane. This mane is artfully colored with yarn in blues, greens, oranges, pinks and more. It's definitely not a traditional lion outfit, but certainly engaging.
When you decide that you want a baby lion costume for your baby's Halloween costume, there are few elements that you need to make sure the costume has. Look for the easy snap openings for diaper changing – you don't want to have baby fully dressed only to have to take the entire costume off just for a change.
You want a hood that fits snuggly against his face but is also comfortable. Look for fitted booties with material that doesn't bunch (in case he's walking) and if you live in a cooler area, look for a costume with (or buy separately) little mittens to keep his paws warm.
&
&
Fleece Lion Halloween Costume for Babies
This sweet little lion costume is made to order from non-pill fleece. The flannel lined hood is separate, and has a large face opening so it doesn't fall down over your baby's eyes.
The costume is fastened by a long strip of velcro (no catching on zippers or bumps from snaps)… and is easy to get on and off. The hand covers can be folded back to allow baby to stay warm, or grasp.
Comes in 6 to 12 months, and runs true to size… you can also order larger sizes through the link.
Safari Lion Costume For Infants
Princess Paradise Unisex Baby Safari Lion, Beige, 0/3 Months
Cuddly soft and cozy warm… the Safari Lion Costume is the perfect Safari Lion Costume for babies first Halloween!
The corduroy material is warm, but not overly so (there is room to put a onsie or long sleeve t-shirt on under it. The sleeves have mittens attached at the end that can be slipped over the hands… or pulled back.
The costume zips all the way down the leg so that diaper changes are easy. And it snaps at the throat to keep baby warm.
Note- the fur does seem to shed a bit… so bring a lint roller, or just let it happen.
Hand Wash and Line Dry!
&
&
Did you find the perfect Lion Costume for your Baby?