I absolutely LOVE these Baby Monkey Costumes for Halloween… probably because I loved calling my kids Monkeys (they were always so BUSY!). And, you know, if you've seen one little goblin, you've seen them all. So many costumes lately look exactly like the next one. (And I just can't send my baby out looking Scary!!) Maybe you're looking for something different. You don't want anything scary – you want something without a face mask, something cuddly and plush that shows what a sweet little one you have.
Baby Monkey Costumes for Halloween
If that sounds like you, then you will loves these Monkey costumes that are not only cute,  but they are easy for baby to wear… and easy for you to get your little one in and out of. (Kind of tricky doing the diaper dance with a furry costume… you need ease of access!!).
Lil Characters Infant Monkey Costume
Baby-Toddler-Costume Lil Monkey Lil Character Toddler Costume 12-18
Take a look at the Lil Characters Infant Monkey costume in a tan and brown color.( Couldn't you just eat him up!!!) This baby monkey costume is just what you're seeking. This is a zippered bodysuit that's lined (meaning comfort and warmth for baby when you're out trick or treating) and it has the quick to get to snap leg closures. The curved brown tail is whimsical and is sure to bring out a laugh in all who see it.
The little booties have the skid resistant bottoms (skid resistant for babies are always a good idea) and are separated by four little monkey toes. The hood with the swirled ears sits snug against baby's face without being intrusive, so it won't annoy him when you're out and about. All in all this is a cute costume at a great price. It's the perfect baby monkey costume for halloween!
&
&
Monkey See, Monkey Do Costume
Monkey See, Monkey Do Costume – Infant
Another one of the cute baby monkey costumes for Halloween is the Monkey See, Monkey Do costume. This romper is a golden brown with a round yellow belly. The twirling tail is attached to the costume.
The crotch snaps for easy access… making diaper changes a snap (see what I did there…?) And the warm fur will keep baby cozy, even on cool nights.
The open banana on top of the hood is a fun and silly fun  addition to the outfit. This would be perfect as baby's first Halloween costume. It has non-skid soles as well. To accessorize, have your baby hold a plastic banana when he goes out and just watch his treat bag fill up the fastest!
&
&
Curious George Costume for Baby
Do you recall reading about everyone's favorite storybook monkey – the one always in trouble – Curious George? How much fun it was to watch the beloved monkey's antics with the man in the yellow hat! Bringing back a bit of yesteryear are these two Curious George Costume for baby. Both are similar, just slightly different shades of a brown romper that is easy to get on (so a squirming little one waiting to get the adventures started won't make changing time a problem). One has furry tufts of hair, the other is more stiff. Both rompers have non skid soles, so his quick get away won't be a problem – for him at least!
Curious George Monkey Costume, 6-12 Months
InCharacter Costumes Baby's Mischievous Monkey Costume, Tan, X-Sma

&
Plush Baby Monkey Costume
Plush Monkey Toddler Costume – 2T/4T Child (Toddler (2T-4T))
Last but not least, the baby monkey costume that's cute and cuddly, too is the Plush Monkey Costume. This jumpsuit has floppy rounded ears, an attached tail and separate footsies to keep the little one's feet snug and dry no matter what the weather is doing outside. The fur is made from a Micro-fiber, so it's cozy warm and super soft. The hood can be removed indoors (so baby doesn't overheat).
THe costume comes in Toddler, 2T and 4T sizes…
&
&
More Baby Monkey Costumes for Halloween!
I can't get over that squischy round tummy!!
Baby Monkey Halloween Costume, Size 6-12 Months
Unisex Infant Baby Toddlers Halloween Cute Monkey Animal Costume (0-3 Months)
Forum Novelties Baby Boy's Plush Cuddlee Monkey Costume, Multi, Infant
Baby Monkey Costumes for Infant Photo Shoots
Super cute! You only get one chance to get these fun infant pictures… once they are a few months old, the time has passed. These baby Monkey costumes are so fun (and will be a great way to embarrass your kid in front of their girlfriend/boyfriend as they get older)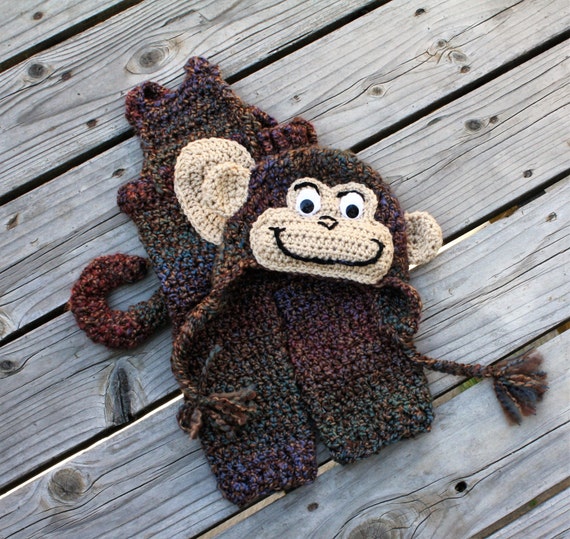 Monkey Hat and Overalls, Baby Monkey Costume,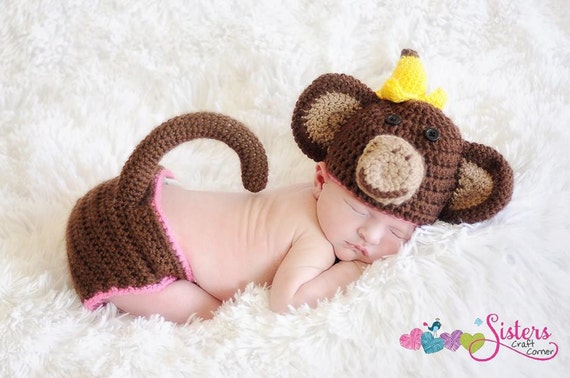 Crochet Baby Monkey Hat & Diaper Cover with Tail Set

&